If you are a content creator on Meta's platforms, this article is for you. Today, we are going to discuss Meta's feature, which is the Facebook Sound Collection. We won't face copyright-related issues by using music from here for our projects. It's free with a ton of music collection, even if you'll need sound effects from Spaceship.
Let's discover it together!
What is the Facebook Sound Collection?
Facebook Sound Collection is a place or a music store from where Facebook users can download & use any copyright-free music for their content without spending a single penny. Any people from the Internet can use music, sound effects, and songs from here in their projects only on Meta's platforms.
So, if you're considering using pieces of music from here to create content for YouTube or other platforms that are not digital platforms from Meta, then Facebook Sound Collection is the wrong place for you.
How can I get access to the Facebook Sound Collection?
A Facebook account is required to download the music content from the Facebook Sound Collection. Before visiting the following link, the user has to log in to Facebook.
Exploring the Facebook Sound Collection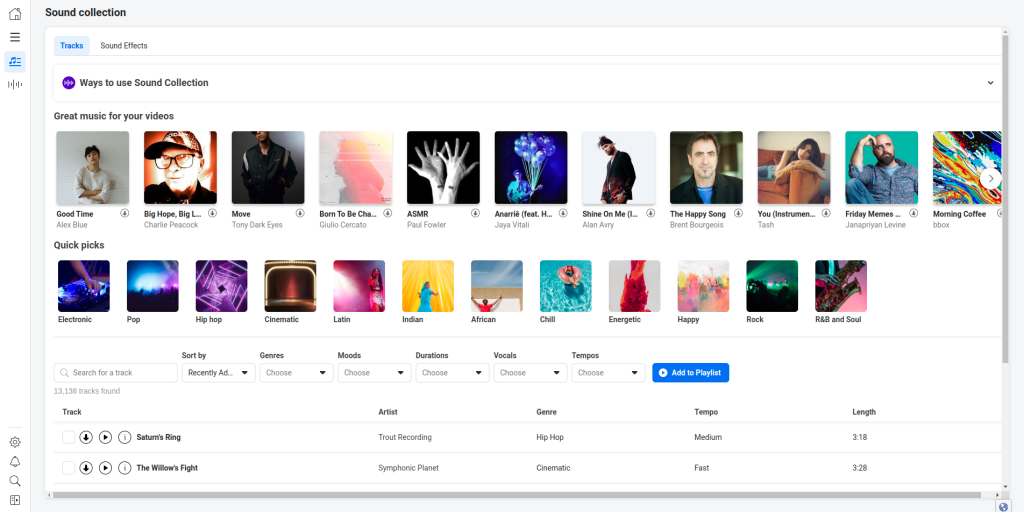 Entering the Facebook Sound Collection page, we'll see two sections.
01. Tracks: Collection of songs & music
The Tracks is the section from where we can find music & songs. Under this section, we'll discover different types of categories, such as,
Electronic
Pop
Hip hop
Cinematic
Latin
Indian
African
Chill &
Energetic
We can search for any music or songs there, sort them based on popularity or recently added, filter them based on,
Genres
Moods
Duration
Vocals &
Tempos
Currently, the collection has music those have a 2+ mins duration.
02. Sound Effects: Sounds of different instruments or vocals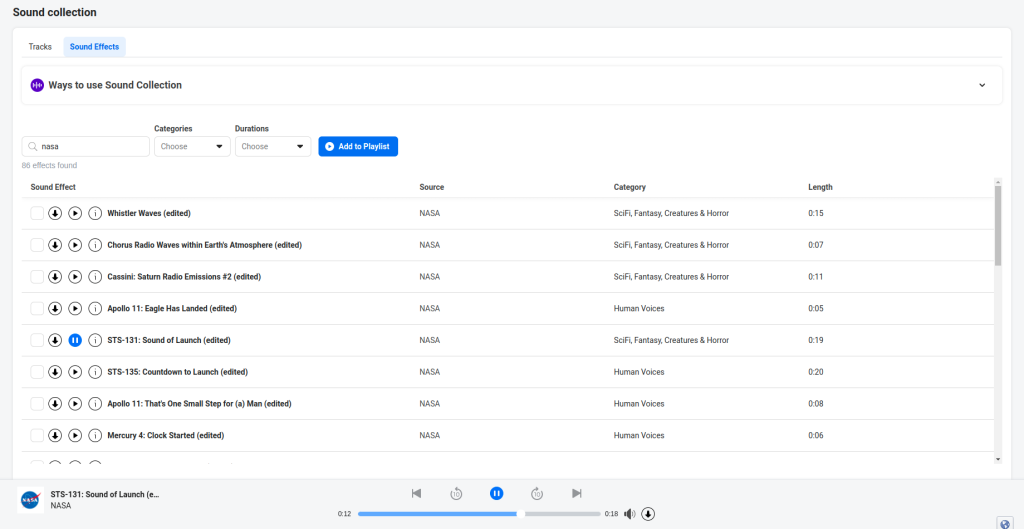 Under this section, we can download the sounds of tools such as the bell, keys, cell phone's vibrating sounds, and many other effects. Even the sounds from the Spaceship are also found here.
The available duration for the sound effects is 0 to 30+sec.
Functionality: Download, Play & Credits
At present, there are three buttons for every music or sound effect.
Using the Download button, we can download any music from there. Using the Play button, we can play any music before downloading.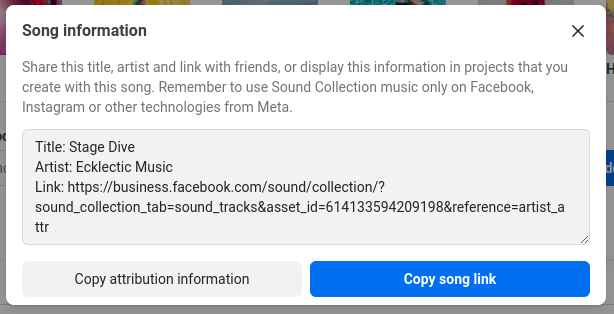 From the Info button/icon, we can see the music information. It's good practice to add song credit to the projects. We can easily find this from here.
We can also create playlists and add our favourite music to it.
Notes:
A logged-in Facebook account is required to download music from the Facebook Sound Collection.
Use this music only for Facebook, Instagram and other Meta platforms.
 Using music from this sound collection on other platforms like YouTube, Twitter, and LinkedIn may have copyright/legal issues.