Microsoft recently released their brand new product Windows 11. They also launch a new PC health checker tool for Windows user who wants to upgrade their system. By using the tool anyone can check if his/her PC can meet the minimum Windows 11 requirements or not. That means anyone can check the compatibility of his/her desktop/laptop to run Windows 11.
Download Windows PC Health Check
NB. The downloadable file is directly from the Microsoft Official Website. So, it's safe to download and install. A Windows PC is required to run this tool. 
The Windows PC Health Check tool doesn't only check the compatibility but also can a huge task. Our motive is not to show all the works of this tool. We are going to represent how you will install.
Step 1: Run the WindowsPCHealthCheck.msi file after downloading it. Mark on "I accept the terms in the License Agreement". It's recommended to read the agreement. Click on the Install button.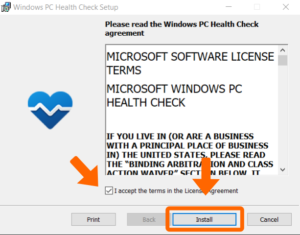 Step 2: After finishing the installation, a new window will come. Mark on "Open Windows PC Health Check". Click on the Finish button. Now, follow step 3.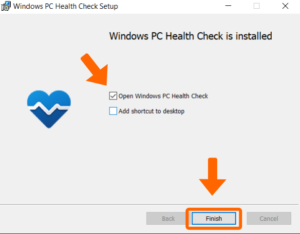 Step 3: In this step, the main window of Windows PC Health Check will be opened. Click on Check now button.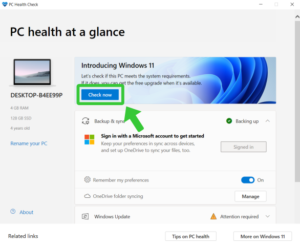 It will take some times and show the result. It should be a positive or negative result.
Positive Result: If the PC meets Windows 11 requirements, it'll show that it can run Windows 11.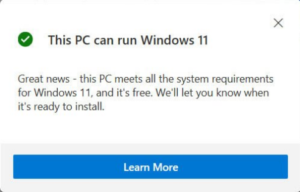 Negative Result: If the PC doesn't meet Windows 11 requirements, it'll show that it cannot run Windows 11.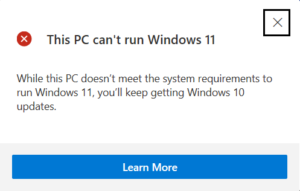 Minimum System Requirements for Windows 11:
Processor or SoC: 64-bit, 2 Cores, 1GHz
RAM: 4GB
Storage: 64GB
System Firmware: UEFI, Secure Boot Capable
TPM: Trusted Platform Module (TPM) Version 2.0
GPU: DirectX 12 Compatibility, WDDM 2.0 Driver
Screen: HD (720p) Display, Diagonal 9 inch, 8 bits per Colour Channel
Exprole More from here.
Note: After testing on my four years old PC, the tool displayed "This PC can't run Windows 11". I found a few reports those matched with my result. Those PCs were running with the old hardware. Technically, the PCs can run Windows 11. What is your opinion about it? Please let me know by commenting.