The full form of SIM is Subscriber Identification Module. On the other hand, the full version of eSIM is Embedded Subscriber Identification Module. It is also called the Embedded Universal Integrated Circuit Card (eUICC).
eSIM is attached to a device and cannot be separated. eSIM is also called Apple SIM because of its use on Apple devices first. But Apple is not only itself used this eSIM on their device. Google also introduced eSIM on several of its devices.
Concept of eSIM :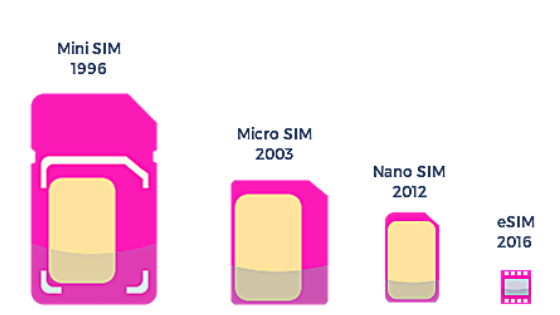 Let us look at the shape of the current SIM to visualize the size of eSIM. The smallest SIM is a nano-SIM with a length of 6.2 mm and a width of 1.6 mm. The eSIM has 5mm and 3mm in length and width, respectively. Then imagine just how small it can be!
You would be surprised to know that the size of the SIM that was used in the beginning was similar to the current credit card.
With the advancement of technology, electric devices are becoming smaller in shape with a ton of facilities. eSIM can be called a blessing in that direction.
Now come and look at the real-life once! Even though it's a very small nano-SIM! We need a single SIM tray when we insert it into our phone. For this, we need to assign space into our device for the SIM tray.
But for eSIM, this extra space is not needed. Then let's hope about waterproof. Where there is no SIM tray, there is no question of entering the water into the device with the SIM tray. Perhaps, the development of a waterproof device has gained a new turning point.
How eSIM works:
There's a question that can be flying into our brain "How can I change the operator or the phone number if I can't insert SIM card?"
eSIM is primarily driven by M2M (Machine to Machine) technology which can change information without interfering of the user.
When any user changes the location, for example, many of us may travel abroad. Then a new SIM may need to keep connected with family members. In that case, he/she can subscribe to a new operator without changing the SIM card physically. That's all in one!
In a few countries, the cellular network service/operator has introduced this facility. But it's hoped that eSIM service will start worldwide very soon.
I tried to summarize everything from my knowledge about eSIM. Some points may be left out. Google is our best friend to learn more and more by searching. All the best. So far for this day.